Review: Prisoners captivates audiences
WARNING: This film features heavy, dark-themed material and is not for the faint of heart.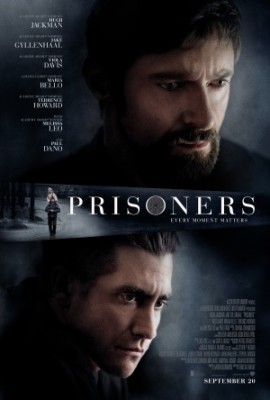 How far would you go to protect your family? This is the tagline of Prisoners, a newly-released crime thriller that features Hugh Jackman and Jake Gyllenhaal, both of whom showcased great dramatic acting throughout the film.
Jackman plays Keller Dover, a hardworking, religious family man who runs a carpentry business. After he and his family eat Thanksgiving dinner at a neighboring family's home, the two younger daughters of each family walk to the Dover household. When dinner is over, the Dover's realize that the two girls have vanished. The only clue is a run-down RV that was previously parked on the street outside. This too has now disappeared.
Our initial reaction upon hearing the tagline was that it would be another film about a caring father who takes on seemingly the whole criminal underworld to save his daughter from her captors. We've seen Jackman before in roles like Wolverine, where his one man wrecking crew tactics save the day. But Prisoners did not follow this pattern.
No, Prisoners was an interesting deviation from the usual action film. This movie is more concerned with the psychological trauma that Dover undergoes when his daughter is kidnapped. The only leads that local police can find are dead ends, and the case goes cold and the one suspect is released from custody. Dover decides it is time to take matters into his own hands. Without spoiling more of the plot, we can only say that Dover does terrible things for the sake of his daughter, monstrous things that were hard to watch on screen.
Meanwhile,Gyllenhaal plays the role of Detective Loki, a local detective who has solved every case he's ever been assigned. He is bent on solving the case but has to juggle dealing with Dover's vigilante justice mentality and his own conscience. The relationship between the two is strained to say the least, and both actors become completely engrossed in their roles.
Perhaps a more interesting part of the film is the character transformation that Dover undergoes throughout the film. He starts out as the victim. But as the days pass and his daughter hasn't been found, Dover's role as a victim shifts. This dramatic change from protagonist to something else entirely beckons the questions to viewers: "If you were in Dover's shoes, would you do the same?" This movie is a horrible masterpiece. The set, the soundtrack, the characters, they all paint a dark, dreary world. And anyone with children or younger siblings knows that this world is straight out of their worst nightmare. But if the most innocent person you cared about was in the face of danger, what would you become to guarantee their safety?
Prisoners is a film that is at once absorbing and disturbing, but the dark seriousness of the plot may drive away audiences who are seeking a lighter theme on Saturday nights. Nevertheless, the cast's superb acting and the emotional complexity of Gyllenhaal and Jackman's roles is enough to carry all 2 and a half hours of screen time.
Prisoners
2 hours 26 minutes
Rated R for disturbing violent content including torture, and language throughout
Directed by  Denis Villeneuve
With Hugh Jackman, Jake Gyllenhaal, Viola Davis, and Terrence Howard